DREAM BIG
For Authors: You wrote a book.
​George Clooney falls in love with it and the next thing you know you're at the Cannes Film Festival and the film wins the
Palme d'Or
.
​
Can it happen? Who knows?

​This is what life is all about. Dream Big! Dreams can come true only if you start by taking action. Look at Sylvester Stallone, Arnold Schwarzenegger, and Jennifer Lopez. While these are all famous icons, the truth is their success started with a dream. Their dreams came true mainly because they took action steps to make their dreams a reality. It's your turn. Get into action and get your book out there!
Why now?
It's critical for every book to be exposed through numerous
cross-channel initiatives.
​Unless you are published by major publishers, and you are a mega bestseller it is nearly impossible to get noticed by Hollywood. Indie-authors are battling millions of authors vying for the attention of producers.
Books to Screen
is a place for authors to be seen and championed.
Fact:
According to ProQuest Bowker Report
, "Four million books are published annually."
How can Hollywood producers find you?
As a member of
BookstoScreen.net
, your book will be showcased in print & digitally. Our
Books to Screen
pages (bound inside numerous magazines) will be mailed and distributed to Hollywood film & TV producers and executives.
We welcome allLiterary Agents | Film Agents | Producers - All Are Welcome.
Books to Screen magazine is one of the ways we can showcase authors' books to the film industry. Below is our last issue which appeared at the Hamptons Film Festival 2022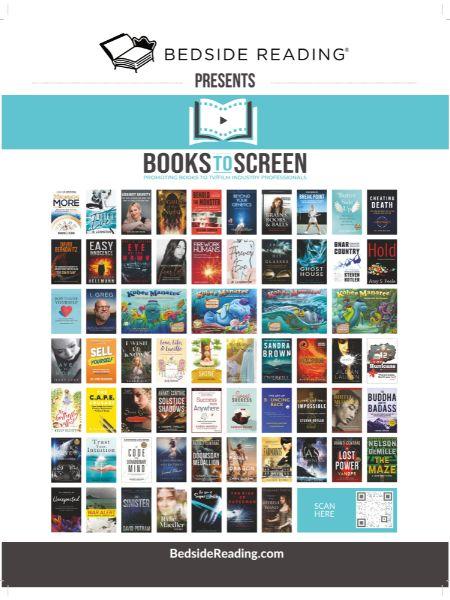 ​A Note from Jane Ubell-Meyer, founder:

Years ago I got my feet wet by producing three films. While the landscape has drastically changed, one thing remains true. It's all about relationships. Why not start with us and our extended tentacles of family and friends in the film industry. We currently have three projects in development and we are excited about the future. Join us.
​
Jane@bedsidereading.com

Featured Member Authors
Winner of 24 Awards and Honors
​Publishers Weekly Starred Review. Bruno Johnson, shaken to his core, but still a formidable force—unrelenting when it comes to saving a child
(Read More)

"Avanti Centrae's VanOps: The Lost Power opens a tantalizing new series that combines historical mystery and cutting-edge science into a masterwork of international intrigue...
​(Read More)


The Last Lumenian Book Series follows the story of Princess Lilla. Her life is not what she imagined it to be. Meddling gods, love interests, and sudden magical abilities have no room in her world. (Read More)
With years of experience working with authors and the Hollywood community our mission is to showcase authors with film & TV industry professionals through cross-channel initiatives.Join BookstoScreen.net
It's the first action step to realizing your dream.

​